Marijuana grow-op remediation
ASTRA Restorations, Calgary's remediation company, professionally decontaminates and remediates commercial and residential properties contaminated by illegal drug operations.
While fentanyl and meth labs are on the increase, illegal marijuana grow operations remain a serious problem. We offer turn-key solutions to property owners and managers whose rental spaces have been used by illegal marijuana grow-ops.
While marijuana operations are not as toxic as chemically-focused drug operations, they still have a devastating effect on property value, property structure, and the safety of tenants.
Calgary's ASTRA Restorations has the expert training and experience to safely and effectively restore drug-impacted properties. As a company that specializes in hazardous materials removal and property restorations, we have the knowledge and expert service to ensure your property is made safe once again.
Property damage from illegal grow-ops
Marijuana grow-ops cause structural problems to properties, wrecking the appearance and value of a property and causing safety hazards to future and neighbouring tenants.
The massive humidity caused by the plants has a devastating effect on drywall. It causes water damage and mould, which can contaminate the property for neighbours and future tenants. Mould can cause life-altering health complications and you, the property owner, can be made responsible for these health deteriorations.
Grow-op operators cut into foundations to circumvent power meters. They carve walls, ceilings, and floors to route extensive electrical supply lines to various grow rooms. They do this because residential and commercial properties are not equipped to deal with the excessive power needed for grow operations nor the humidity produced by the plants.
Drug-testing
If you suspect your commercial or residential property has been affected by an illegal grow-op, call Calgary's ASTRA Restorations to restore your Calgary property. We will confirm the presence or absence of a former grow-op.
Drug-testing is risk-free and adds value to your property. Regular testing will ensure peace of mind for you and your tenants and reduce your liability. Letting tenants know you regularly test for drugs will provide your tenants a sense of security and scare off would-be grow operations.
Safety
Calgary's ASTRA Restorations is COR-certified, meaning we meet or exceed regulatory standards for hazardous-materials handling and remediation.
ASTRA's compliance with all regulatory agencies ensures our work on your drug lab-affected property meets all safety standards. Our remediation steps ensure the future safety of your commercial or residential tenants.
ASTRA Restorations uses moisture- and mould-detecting equipment to identify mould and moisture hazards caused by grow-ops. As an IICRC-certified company, we are qualified to remove and restore all mould-contaminated materials to ensure the property's air quality passes regulatory tests.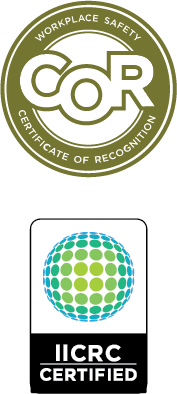 Drug-lab property restoration
Calgary's ASTRA Restorations will remove and resolve all grow-op-created hazards. Our expert team will begin by clearing your Calgary property to pass safety-code inspections and indoor-air-quality tests. Then, we start the restoration process, rebuilding your property and restoring it back to its original condition.
Remember, while Marijuana grow-ops are not as toxic as fentanyl and meth labs, they cause safety hazards that can affect all aspects of property.
If you, as an Alberta property-owner have been impacted by an illegal grow operation, you are required by law to hire a professional remediation company to restore your property.
Trust only Calgary's ASTRA Restorations with your drug-affected property.